Korea Visas & Passports
Foreign nationals entering Korea are generally required to have a valid passport and a Korean visa assigned by overseas branch of Korean embassy or consular offices. However, many are now permitted visa-free for a limited period under certain conditions following the "Citizens of the Countries under the Visa Exemption Agreement" [See Table 1]. In order to check whether you're allowed to enter Korea without visa issuance and for other requirements, please contact the Korean immigration offices or visit the following websites to confirm.
Ministry of Foreign Affairs

www.mofa.go.kr (Korean, English)

Korea Immigration Service

www.immigration.go.kr (Korean, English)

Hi Korea (e-government for foreigners)

www.hikorea.go.kr (Korean, English, Japanese, Chinese)
1. Example of Entry Visa to Korea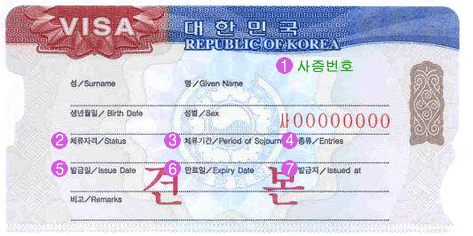 * Countries under Visa Waiver Agreements (English)
2. [Table 1] Designated Countries & Regions Granted Visa-Free Entry to Korea
Allowed to stay in Korea for 30 days only (unless otherwise specified below) for the purposes of tourism and visitation only.
[Table 1] Designated Countries & Regions Granted Visa-Free Entry to Korea
Countries
Asia
Japan (90 Days), Hong Kong (90 Days), Macao (90 Days), Taiwan (90 Days), Kuwait(90 Days), Brunei, Qatar, Saudi Arabia, Oman, United Arab Emirates, Bahrain (90 Days)
North America
United States (90 Days), Canada (6 Months)
South America
Argentina, Honduras, Paraguay, Uruguay (90 Days), Ecuador, Guyana
Europe
Andorra, Monaco, San Marino, Cyprus, Albania, Croatia, Slovenia (90 Days), Vatican, Bosnia-Herzegovina, Serbia, Montenegro
Oceania
Australia (90 Days), Guam, Fiji, Nauru, Palau, Marshall Islands, Solomon Islands, Micronesia, New Caledonia, Samoa, Tuvalu, Tonga
Africa
Republic of South Africa, Mauritius, Seychelles, Swaziland, Egypt
3. Visa-Free Entry to Jeju-do Island
Applicable countries

With the exception of the countries listed below that are not eligible for visa-free entry

Countries NOT eligible for visa-free entry to Jeju-do (11 countries)

Ghana, Nigeria, Libya, Macedonia, Sudan, Syria, Afghanistan, Iran, Iraq, Cuba, Palestine

Period: 30 Days
Allowed region and range of activity: Jeju-do
Conditions: Those eligible must take planes or ferries with direct routes to Jeju-do.
Customs Allowances
All visitors who enter Korea must submit a written baggage declaration to a customs officer upon entry. If a passenger declares non-duty free articles voluntarily, the declared amount will be accepted and the clearance procedure will be expedited, unless the declared price of articles is questionable. More information about customs allowances and currency regulation can be found at the website below.
Korea Customs Service

www.customs.go.kr (Korean, English, Japanese, Chinese, Spanish)